Network Services
Systems Support
Web Design & Development
Cable & ISP Management
Managed Hosting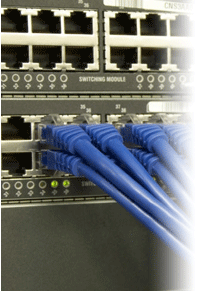 Network Services
We provide a full range of services, from complete managed services, to project-based support.
We believe your business is unique, therefore we offer customized support plans to meet your needs. We will work with you to determine a cost-effective solution to your needs whether it be a completely managed solution or just per-call project support.
Our Capabilities
Staff Augmentation - If you need extra help, we can provide experienced staff on a short-term or long-term basis.

Help Desk Support - We can provide you with a central helpdesk with ticketing and on-site support so that your users can get help when they need it, from experienced technicians.

IT Audit and Network Analysis - We provide an independent review of your networks, systems, policies and procedures to give you a comprehensive analysis that details our findings and recommendations.

Managed Services - Our approach is to take responsibility for every aspect of IT while still giving you full administrative control if you want it. We can be as involved or uninvolved as you like. Our customer service oriented staff gives you the level of control you want and the service you need.

Network Design and Implementation - Network a few years old? We can design your new network, using all the latest technologies, staying within your budget.

Disaster Planning & Recovery - Based on your business needs, we can design a full disaster recovery plan to ensure that your data is safe. We even offer Remote Backup services, giving you immediate access to archived files in case of server failure.

Remote Administration - Don't need someone in the office full time? We can remotely manage your systems from our office on a proactive basis or a per request basis. We utilize a VPN or "encrypted private tunnel" to your network, ensuring that your network stays secure.

Network Security - Your data is one of your most important assets. We implement state of the art firewall and VPN solutions to keep your network secure, while allowing those that need it, access from the outside. Networks can also be compromised from the inside as well. We can implement the necessary security policies and procedures for your employees to follow to minimize this risk.